2019 Student Profiles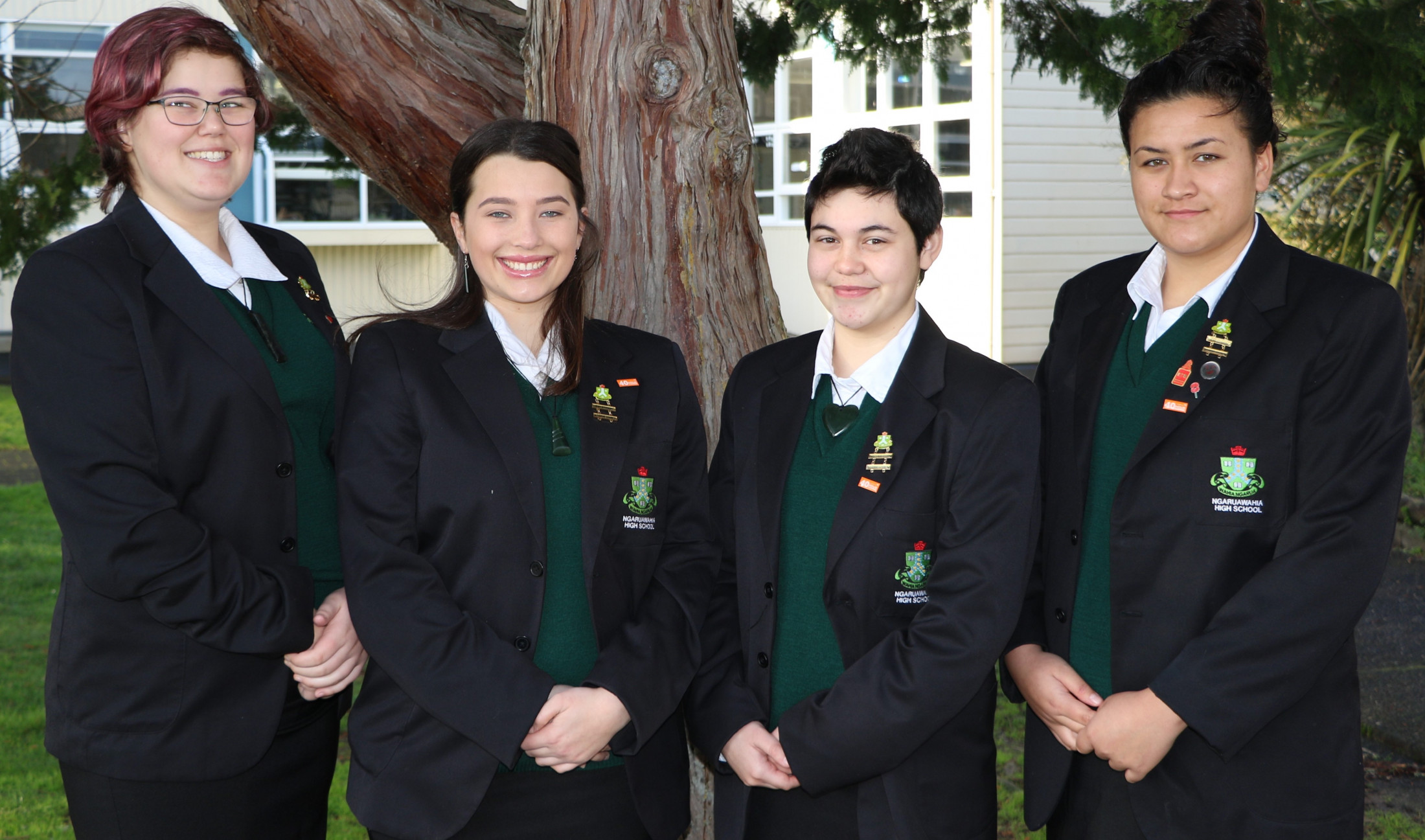 (In order from left to right)
Autumn-Breeze McCormick (Deputy Head Student)
Hello everyone. I'm Autumn Breeze McCormick and I'm the other deputy head student of 2019 at Ngaruawahia High School. I started my journey here when I was a little baby year 9 and I haven't looked back since. It's been a pretty wild ride so far, since the beginning its been bonkers, but I wouldn't want it any other way. I like to think I've been involved in and around the school since day one. Becoming a head student had always been a dream, ever since I saw my cousin Salem Waters, become head girl when I was younger. Now looking back on it, it's crazy to think I'm in the same role.
As a deputy, my role is slightly less impressive than our heads but of course it's no less important. I've almost taken the role of supporting our heads in their actions and the decisions they make. I've been helping out with both the senior and junior council, but the junior council is more what I work on. I'm also a part of the ball committee which I can already tell is going to be amazing. I help with assemblies but less towards the planning and more towards the speaking, as I'm known in the school as a loud-mouth. I'm also in the peer mentoring group, which is a student run group with the help of a couple teachers that mentor our students who are struggling.
I love to act and when I leave school I aspire to become an actress. I'm hoping to get into a drama school to help me learn new skills and refine the ones I already know. I want to become an actress not only to perform but to inspire others like so many others have done for me. If it wasn't for this school and the people I never you have rekindled this passion and for that I am eternally grateful.
Havana Klink (Head Student)
Melissa Blackett (Deputy Head Student)
Kia Ora, my name is Melissa Blackett and I am one of the Deputy Head Students for 2019.
By the end of this year, I would have attended NHS for 5 years. This school has given me many different opportunities and as a result has seen me grow to become the best version of myself so far. When first starting high school, I didn't know what to expect and the thought of moving to a new school made me really nervous. But once I stepped through those gates, I knew I was at home with the new whanau I had made. Everyone at Ngaruawahia High is approachable, kind and caring and make you feel welcomed. There were a few familiar faces around the school that I knew from primary school but I also met many new friends, staff and students, and they have helped me through my journey here. They treated me like family so in return, I treat them like my family.
Throughout the years here at Ngaruawahia High, I have been given many opportunities that range from sporting opportunities to academic opportunities. Even though I was shy, I was hardworking and wanting to achieve to the fullest and still do. Through these opportunities, I have grown in confidence and have been able to do things such as speak in front of the school during assemblies. Through the role of Head Student, I have been able to help accomplish many things for the students benefit such as having two separate student councils so we can focus on the different needs for both seniors and juniors and voice what students want to see throughout school.
When I leave school, I am wanting to work in the engineering industry as a Mechanic and do an apprenticeship then possibly enlist into the New Zealand Army and add to my knowledge I would already have for this industry. I am passionate about making a difference for girls so they can achieve anything they wish to, aswell as being passionate about making positive changes for young people so they can strive to the fullest and achieve want they want to. I am certain that the support provided by Ngaruawahia High School as well as the encouraging, positive environment is what has contributed to my different successes and ambitions and I wouldn't swap a thing for another school.
Charlie Ryan (Head Student)
Kia ora, my name is Charlie Ryan and I have the honour of being one of Ngaruawahia High School's Head students for 2019. For me, all of my years throughout high school have been some of the most enjoyable times throughout life, and hold the best memories . This is because ever since I first attended this kura, I have always wanted to be heavily involved in making our kura more enjoyable for my peers, and creating many opportunities for myself and them to succeed in. Now as Head student I am able to execute this role and be more included and speak up, in what is offered to our tamariki and how it can benefit them not only throughout school but social and work life also.
As a Head student, I perform tasks such as running assemblies, senior student council, our senior ball committee as well as representing our school in a high manner at all times and role modelling this to the rest of the students to look up to. In addition, I've accomplished many positive changes at Ngaruawahia High School. These include the establishment of two separate student councils being both senior and junior earlier this year. This has led to a significant increase in student voice and needs from all year levels, and student-led initiatives, such as Pink Shirt Day, Wig Wednesday and events such as sport and talent related days.
When I leave school I am wanting to attend the New Zealand Police academy and one day become a youth or community officer, and give back to my community and others. As well as inspire other youth to give back to their communities and make positive choices for their life. I have a passion for physical activity as well as working and communicating with youth, which is why I have chosen to take this path. I am certain that the support provided by Ngaruawahia High School and the positive, encouraging environment are what contributed to my success and ambitions and I wouldn't trade it for any other school.